Two Color Stringers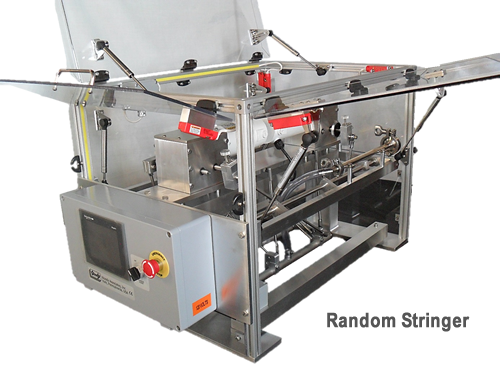 We have built special Woody Stringers to decorate with two colors at the same time. These special Stringers have included versions with an interlaced pattern of two colors, random patterns of two colors and Stringers where ½ of the belt is decorated with one color and the other ½ of the belt is a different color. These Stringers are specially developed to meet the customer's needs and we would be happy to discuss the possible options with you.
Long Stroke Stringers
The typical stroke of the Woody Stringer is variable from zero to about two inches (50mm). A special design of the Woody Stringer permits a longer stroke up to about four inches (100mm), while maintaining the available options of single loop and double loop patterns. Exceptionally long strokes can also be made with the Woody Stringer. We have built machines capable of a twenty-four inch (24") long stroke. This Stringer is suitable for certain customers, but there are some limitations.
Random Stringer
The Woody Random Stringer mimics the effects of hand decorating confectionery and bakery items. The Random Stringer can decorate truffles with a delicate thin string or a decadent cake with a heavy layer of chocolate.
High-Speed Stringer
The standard speed range of the Woody Stringer is 20 to 250 cycles per minute for the standard Stringer and up to 500 cycles per minute with heavy-duty construction. Special Stringers have been designed to handle speeds up to 1,000 cycles per minute.