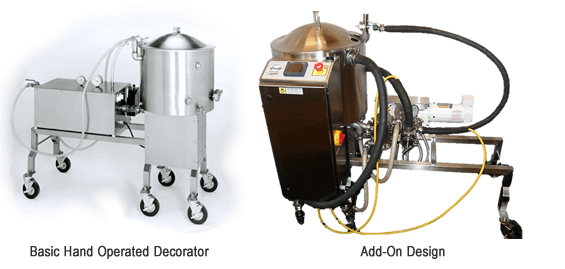 The Hand Operated Decorator is designed to replace the use of pastry bags or squeeze tubes when decorating with chocolate. The decorating material is pumped under controlled pressure to one or more operators and the only effort required by the operator is to gently squeeze and guide the hand held nozzle. The operator does not have to stop every few minutes to refill a pastry bag or bottle. Therefore, with the Hand Operated Decorator one operator can produce approximately twice as much with less effort.
The Woody Hand Operated Decorator uses standard decorating tubes, which are available with many different flutes. A box of various decorating tubes is included with the machine.
The basic machine is available as a self-contained unit and includes a cast iron pump with a pressure selector system, internal heating and control, pressure and temperature gauges, a sanitary stainless steel hood, double outlet adapter and valve, two high pressure hoses and a box of 48 different decorating tubes.
Alternatively, the Woody Hand Operated Decorator can be provided as an add-on design. Typically this unit is attached to a supply kettle and pump assembly and uses the hot water from the supply kettle for warmth. The add-on unit disassembles easily for cleaning.
Basic Hand Operated Decorator Quick Facts
Available in 120V or 230V (50/60Hz) for easy plug and play operation
Fractional horsepower motors for energy efficiency
Enough power to supply one or more operators
Simple installation and use
Add-On Hand Operated Decorator Quick Facts
Simple addition to Woody Kettle/Pump Assembly
Water jacketed
Easy to clean design
Designed to supply more than one operator