The confectionery model of the Woody Stringer places a string-type decoration on an array of baked goods or chocolates. This model is built for the confectionery user for whom ease of use and versatility are valued characteristics.
Designed to be easily installed and removed by hand, the Confectionery Stringer is designed for normal daily production, but is robust enough to handle overtime duty when called upon. The standard design is with a strong, lightweight aluminum frame and stainless steel product areas. Compact, efficient, permanent magnet motors are used to keep overall mass at a minimum.
As with all of our Woody Stringers, the basic model of this machine comes equipped to produce zigzag designs. Simple adjustments permit the user to make fast or slow, wide or narrow, thick or thin decorations. Each Stringer is equipped with our patented motor driven strainer, which cleans the chocolate before it reaches the nozzle tube ensuring consistent operation all day long.
Design upgrades of this Stringer can include the Single-Loop Attachment, allowing users to create loops, circles, slanted ovals and slanted zigzags. Also available is the Double-Loop Attachment, which allows an increased selection of decorative patterns including a figure eight (8) design.
The Confectionery Stringer can also be designed to make random patterns to simulate hand decorating, cross-hatching patterns and more.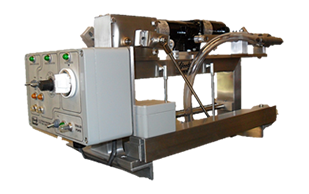 Confectionery Stringer Quick Facts
Available in 120V or 230V (50/60Hz) for easy plug and play operation
Fractional horsepower motors for energy efficiency
Simple installation and cleaning procedures
Additional Options
Single-Loop Attachment
Double-Loop Attachment
Nozzle Heater
Heated Enclosure
Purging Nozzle Tube
Washdown Construction