Designed with continuous operation in mind, the bakery model of the Woody Stringer is constructed to withstand hours upon hours of continuous service without the need to halt operations.
The bakery model differs from the confectionery model based on the typical inclusion of Heavy-Duty Construction. The Heavy-Duty Construction includes heavier rods, a larger frame and a stronger drive motor. Higher capacity product areas improve performance during high-level production sessions.
As with all of our Woody Stringers, the basic model of this machine comes equipped to produce zigzag designs. Simple adjustments permit the user to make fast or slow, wide or narrow, thick or thin decorations. Each Stringer is equipped with our patented motor driven strainer, which cleans the chocolate before it reaches the nozzle tube ensuring consistent operation all day long.
Design upgrades of this Stringer can include the Single-Loop Attachment, allowing users to create loops, circles, slanted ovals and slanted zigzags. Also available is the Double-Loop Attachment, which allows an increased selection of decorative patterns including a figure eight (8) design.
The Bakery Stringer can also be designed to make random patterns to simulate hand decorating, cross-hatching patterns and more.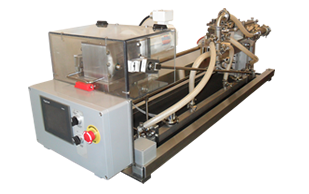 Bakery StringerQuick Facts
Available in 120V/230V single-phase or 240V/480V three-phase operation
Fractional horsepower motors for energy efficiency
Available with 56C face motor
Simple installation and cleaning procedures
Additional Options
Single-Loop Attachment
Double-Loop Attachment
Nozzle Heater
Heated Enclosure
Purging Nozzle Tube
Washdown Construction