Our new Servo Stringer allows for users to change and save patterns with the touch of a button, instead of altering patterns using knobs and cranks.
The Servo Stringer is designed to comply with the latest FDA/GMA guidelines regarding cleanability and sanitary design of equipment. The standard machine has an aluminum frame and stainless steel product areas, but the entire machine could be stainless if desired.
This model encompasses several attributes within one machine. It can work at speeds exceeding 1,000 CPM, features Heavy-Duty and Washdown construction and can create patterns up to 4" wide.
The memory of the Servo Stringer allows the user to save hundreds of pattern settings for a later use. Switching back and forth between these settings is as simple as pressing a button. This feature is great for customer decorating multiple products.
At the present time the Servo Stringer is designed to make all of the standard patterns including zig zags, slanted zig zags, loops, ovals, figure-eights and cross-hatching. Different from the standard Stringers, this unit has the capability to have additional programming for the future. Based on some feedback from customers we are working on some enhancements to include additional components.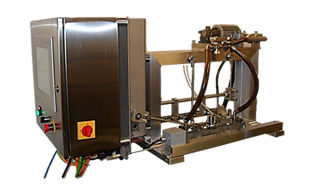 Quick Facts

Available in 120V or 230V (50/60Hz) single phase for easy plug and play operation
Durable Servo motors for maximum pattern adjustments
Complies with all the latest FDA/GMA specifications for food safety
Washdown construction
Additional Options
Nozzle Heater
Heated Enclosure
Purging Nozzle Tube